Setting the Record Straight: Interview with a Digital Court Reporter | Part Three
This is the final part in a series of interviews with Digital Court Reporter, Margaret Morgan. 
For those not familiar with the nuanced and sophisticated world of capturing the court record, there are many perceptions and interests at odds with each other in the discussion about the future of court reporting.
For several years, the industry has been facing a court reporter availability crisis brought on by an upward trend in the median age of stenographers and a significant downward trend in the number of people achieving certification. Consequently, the shortfall in numbers necessary to effectively cover court cases across the country is contributing to significant delays and backlogs.
Though the COVID-19 pandemic may have hastened the implementation of digital recording processes in courts—and therefore increased the growth of digital court reporting methods—Margaret Morgan, District Court Reporter for the Minnesota Judicial Branch, says there is still more to be done to eliminate misinformation and support this efficient, reliable, and accessible method of capturing court records.
What are your thoughts on the court reporter shortage currently facing the industry and the justice system more specifically?
There is not a court reporter shortage, there is a stenographic court reporter shortage.
There are groups of individuals qualified for these positions, and AAERT and the digital reporting industry can do a better job at reaching paralegals, legal assistants, paralegal or criminal justice students, English majors, individuals with legal experience, or professional certified transcriptionists.
Stenographic reporters have done great work for years, but the digital reporting industry must do a better job of informing the legal community of its benefits. Most importantly, I think it is essential that there is a court reporter, of any method, responsible for the record.
For a time, many in the legal field were not even aware digital reporting existed. The stenographic reporting community has a large presence and loud voice in the industry, but there are alternatives equally capable of capturing an accurate and complete record.
There are schools that instruct on digital reporting and transcription now—that wasn't the case when I started over 28 years ago. Some stenography schools, including NCRA approved schools, have added digital reporting programs to their curriculum. The academics are the same; the reporting method is the only difference.
Since it doesn't take two to three years to learn digital reporting, students will graduate at a faster rate. The large stenographic reporting firms are hiring digital reporters to fill their demand, and many of them have their own internal digital reporting training programs.
How would you respond to the following claims made by stenographers and the NCRA?
Essentially, if you look at the locations where there are complaints about the quality of the digital record, you also need to look at how it is being managed. Depending on the location, this claim may have some merit if the responsibility to capture the record is placed on a busy court clerk. Given the importance of the record to the judicial system, it should be handled responsibly by people who have received relevant training and are focused on capturing the record. Additionally, starting the recording and letting it run unmonitored is just asking for problems.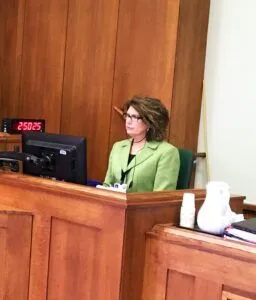 I've worked alone in the courtroom handling clerk and reporter responsibilities, and it is difficult to manage it all. Adding responsibility for the record to a court clerk who is busy with their own tasks is irresponsible. I've even heard of a bailiff or judge operating the system. Their focus is on their own jobs, not the record.
There are now schools for digital reporting and transcription. AAERT has had a robust certification program for reporting and transcription for years—I am a better reporter/transcriber because of my AAERT certification. Consequently, digital court reporters who have achieved certification have received the necessary training to work in courtrooms and at depositions.
That the digital process is riskier than stenography because few states have standards for digital reporting competency, training, and overall accountability for the chain of custody.
As with other methods of capturing the record, there are differences on a state-by-state basis when it comes to standards and requirements by law. However, I support high standards/requirements for digital court reporters and transcribers across the board.
I am most knowledgeable about what happens in Minnesota since I work for the Minnesota Judicial Branch, which has always had a certification requirement.
The chain of custody is a non-issue with digital reporting systems in Minnesota courts because the audio belongs to the courts—not a court reporter walking away with their machine and the only version of the record that is unique to their own writing form and stored in a personal storage location.
I don't know how a digital recording from court hearings can be compromised when there are redundancy measures in place with multiple backup recordings captured simultaneously and stored on secure servers. Additionally, the hardware installation and software algorithms increase audio quality and reduce background noise.
A computerized digital reporting platform does not tire at the end of a long day. Technology advancements have made these systems incredibly stable and secure. Anyone attempting to alter an audio recording would be detected quickly since the original audio is secured.
The claim that there is no substitute for stenography is wrong. Digital reporting and voice writers are equal options.
What's next?
For The Record would like to thank Margaret Morgan for sharing her time, knowledge, and insights with us.
The world of capturing court records is nuanced and complex, with methods, roles, and processes differing from state to state. As technology advances and court systems work to modernize their courtrooms, we find it necessary to listen to, and learn from, the insights and experiences of all stakeholders in the justice system.
If you would like to be part of the ongoing conversation about court reporting in the 21st century, please contact us to share your experiences and insights about the industry.
This is part three of three in a series of interviews with Digital Court Reporter, Margaret Morgan. Read part one and part two.